What Is Hanuman Chalisa App Is About??
ABOUT SHREE HANUMAN CHALISA :
The great Hanuman Chalisa (Hindi pronunciation -हनुमान चालीसा) is a Hindu devotional hymn which we call it as stotra in our regional language hindi addressed to Lord Hanuman. Lord Hanuman is a vanara a greatest devotee of Lord Rama, and one of the characters in the Sanskrit epic story Ramayana. people believes that if they read Hanuman Chalisa this will increase their power to fight with bad people or enemies Also this activity if done regularly then qualities of Lord Hanuman – his strength, courage, wisdom, celibacy, devotion to Lord Rama will help us and protect us from the problems which may occur in our life.  There are many temples devoted to Lord Hanuman in maximum cities of our country India.
How To Read And Listen Shree Hanuman Chalisa With Songs As Well Using Hanuman Chalisa App
In sixteenth century poet Mahakavi Goswami Tulsidas has written Hanuman Chalisa a poem in hindi language in praise of Lord Hanuman who was a great devotee of Lord Shree Ram and Sita. In older days we were habitual of reading everything from book but now world has been changed and everything has gone digital and in place of book people ar eusing smart phone as a reading medium. So this app is working as a Hanuman Chalisa Book also it work as Hanuman Chalisa Songs and Audio Track. Even in today's world Hindu people are much faithful in God and have trust in lord Hanuman so this app can help them by which they can read and hear Hanuman Chaisa regularly even though they are travelling or they are at home or even though they are out of  home, As this app work as a book as well as audio device through which app user can listen Hanuman Chalisa as well as read it thoroughly. This poem is known as Hanuman Chalisa as it contains 40 verses so it has been named as chalisa.
Following Are Some Features Of Hanuman Chalisa App  :
 Very easy Graphical User Interface and also provides Hanuman Chalisa Songs
 Background sounds are provided like rain Sound and Shruti sound
 Subtitles are get displayed for each and every track
 We can set how many time to repeat a sound track
 Auto timer provided by which it can get auto off
 We can use images provided i the app as wallpaper
 We can use an image track as a ringtone for phone
 We can use app as audio player and can Play, pause, next, previous to these audio tracks
 Automatic stop the music and resume the music during phone calls received or dialed
 App notifications are provided so that user can remain updated
 Annoying Pop-ups, Spam, Ads do not get displayed
 Absolutely clear and clean app not at all spam
 App can be easily moved to SD Card so that main memory will have less utilization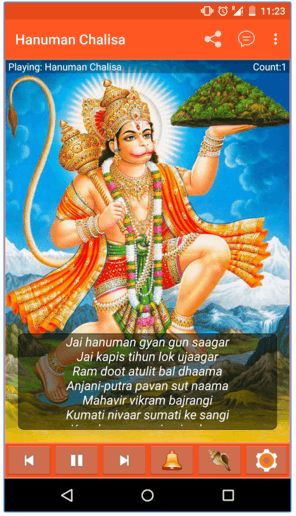 Following Are Some Contents of Hanuman Chalisa App :
1. श्री हनुमान चालीसा – अंग्रेजी व हिंदी भाषा में हनुमान चालीसा क! अर्थ, अंग्रेजी में उच्चार, (Shree Hanuman Chalisa with images as well as pronunciation in english and hindi )
2. श्री राम स्तुति-अर्थ सहित ( Lord Shree Ram Stuti with Meaning )
3. श्री बजरंग बाण ( shri bajrang baan )
4. श्री संकटमोचन हनुमानाष्टक ( ShreeSankatMochan Hanumanashtak )
5. श्री राम आरती ( Lord Shree Ram Aarti )
6. श्री हनुमानजी की आरती ( Lord Shree Hanuman's Aarti in Hindi )
There are several names are related to Lord Hanuman those are as follows :
Bajrangbali, Rama, Ramayana, Maruti, Pawan Putra, Bajrang Bali, Maruti, Anjaneya and Pavanputra.Hanuman is one of the most popular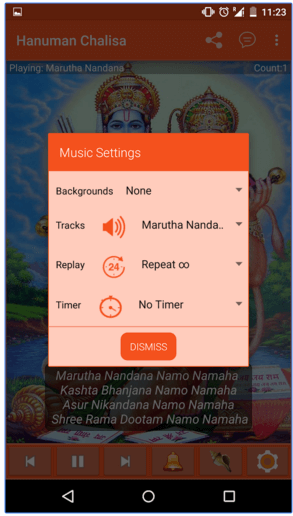 How To Download Hanuman Chalisa Full Apk On Android Phone
Steps To Download Hanuman Chalisa App :
Open a menu option in your smart phone
Go to play store and open it
Now type Hanuman Chalisa and you will get some filtered result
Now select 1st result and click on download Hanuman Chalisa app
As soon as downloading get finished start installing it
And that's it you are done with it successfully
You can follow same procedure on your Apple iPhone also. Hope you will love this article and don't worry much be relax and enjoy the life, So stay calm and enjoy the life.
Must Read : How To Remove Write Protection From Micro SD Card Through CMD