"ChromeBit" Turns your TV into Chrome PC
Hi Friends! You may hear about Google ChromeBook Now Google Announce ChromeBit. Google started New Era in this World.
Google came with a new device to meet needs of Technology Lovers. This device not only plays the video, but also allows you to play games (Sounds Awesome). This is actually Dongle which consist of the OS, Storage, Memory, RAM, processor just like ChromeBook.
Now What Actually ChromeBit Is?
ChromeBit is a simple device looks like a Pendrive. It's like a PC On a Stick.
The ChromeBit Connects Via Built in HDMI port to your TV or Monitor and it gives you instant access to Chrome OS.
Just Like ChromeBit Intel also announced Intel computer stick In 2015.
But In comparing with Chromebit Intel Computer Stick is a bit costly.
Intel Computer Stick available in the market at $150 and Chromebit is available in just $100.
Ohh Tough Competition!!
Google Launch this ChromeBit in collaboration with Asus. ChromeBit uses hardware developed by Asus and Chrome OS by google.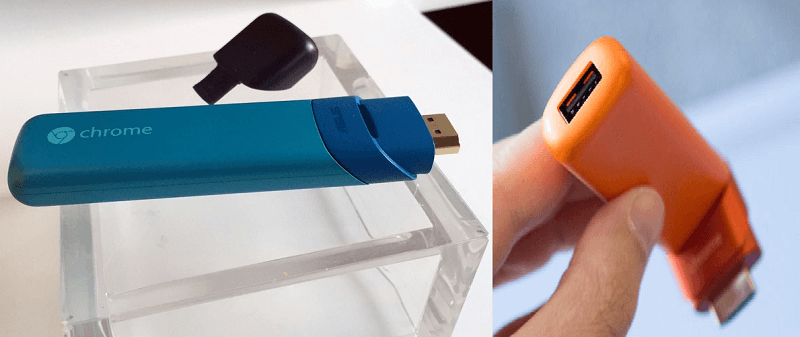 ChromeBit Technical Specification:-
OS: – Chrome OS (browser Base OS)
Processor: – Rockchip 3288
Ram: – 2GB
Storage: – 16GB of SSD Memory
Dual Band 802.11ac WiFi
Bluetooth 4.0
USB 2.0 Port
ARM Mali 760 Quad Core GPU
From the above Technical Features Google ChromeBit Look's very impressive, and it's also available in three most Attractive color's.
This Super Smart device actually boosts up your business easily no need to carry heavy Laptops with you just connect ChromeBit to Build-In HDMI port and you are ready for your business, no need to carry any extension cable.
How to Use ChromeBit?
Join To HDMI port for Display.
Connect Your Mouse Or Keyboard to USB port
ChromeBit Pricing:-
This ChromeBit is available in the market at near about $100.
In India its available at Rs 6300.