Detail Description of Reliance MyJio App
Reliance has launched Jio 4G service which has number of benefits to its users in India, Let us take a look at it.
To get this such amazing benefits users have to buy this MyJio 4G Sim and it needs a 4G phone to use this SIM card to get all these benefits. As soon as we are ready with this 2 things now we need to install this MyJio App Apk . Now download MyJio App Apk and get Jio Prime membership to get all benefits of this service like checking balance of amount in phone, Also this app tell users whether user can use his phone for this sim card or not, If SIM is not usable then it will show error on the app.
www.jio.com – Visit this link to get more details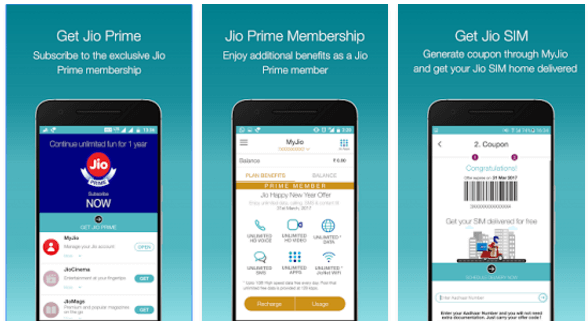 —————————————————————————————————————————————
MyJio app has following features and benefits : –
Jio is providing unlimited data pack(Internet) and free calling facility to its user and user can manage this service through its app that is MyJio App Apk 2017
Auto Login Feature -User can get started directly this means he do not need to login and authenticate himself with MyJio money App using Jio SIM
Avail MyJio at one place – Get all stuff related to MyJio from one place that is available on Google play store
Details Of Activity – User can get all details of calls done as well as data utilized or remained in the phone, All related statistics to SMS, calling and internet as well
Check Account Details – It provides all details of data balance and account balance like how much is used and how much is remaining
Free Home Delivery – Yes!! Don't be so shocked Reliance Jio is providing free home delivery of SIM card to its users
Variable Plans – Reliance Jio has number of plans and user can choose among them to do so user has to buy Jio prime membership and then plan as well
Account Statement – App provides details account statement of users choice date, User has to select date range and statement get fetched as a result
One Stop Solution – Get updates of MyJio app 2017 from single location
Instant Help – Jio is providing excellent service too it's users, For this purpose they have Jio care Unit
Status – App provides the status of a Sim this means it indicates whether Sim card is activated or not
Do Not Disturb Feature – MyJio App 2017 has in built facility to activate DND service by which he can avoid unwanted calls
Manage All Accounts – It has one excellent facility by which users can link their Jio sim with each other and can manage all of them from one MyJio App Accout
Settings – User can customize his account, Profile picture, Control usage limits and whole account as well
Following Are Screenshots For MyJio App Apk 2017 –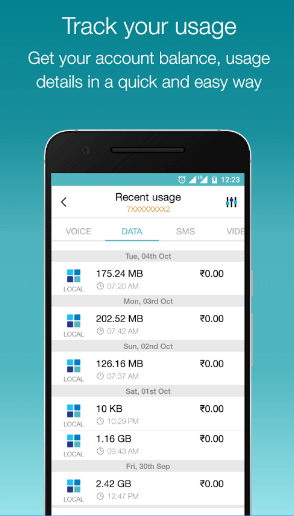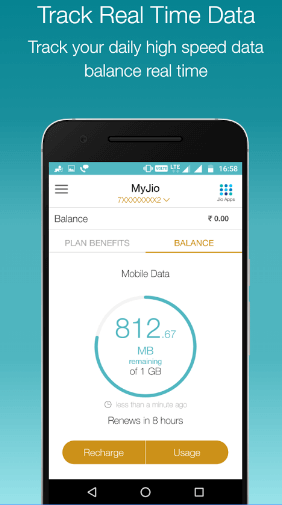 People Also Search For –
MyJio 3.2.27 for Android 4.0.3+ APK Download
MyJio 3.2.28 for Android 4.0.3+ APK Download
MyJio 3.2.29 for Android 4.0.3+ APK Download
MyJio 3.2.30 for Android 4.0.3+ APK Download
Jio chat app
Jio join app
Jio money app
Jio 4g app
Jjio on demand appjio security app
Jio video calling app
Jio tv app
Jio app for windows
Join jio app
Jjio world appjio join app for ios
Jio app for iphone
Jio connect app
Jio apps ril
Jio apps for android
Also Read : –
Mahalakshmi Dindarshika 2017 Calendar App – Download Mahalakshmi Dindarshika Lite App 2016-2017-2018