FotoJet is  very user oriented and user friendly website, it allows users to make beautiful collage, edit own photos and design all kinds of social platform banners, poster and so on. Users have to open the www.fotojet.com and then choose the Collage, Design or Edit options, which are located on the top of the homepage. In the collage and design mode, users can first select sample template for their own creations. There are many kinds of templates, such as classic/creative collage, Misc, photo card, YouTube Banner, Facebook Cover, Flyer, Poster and so on.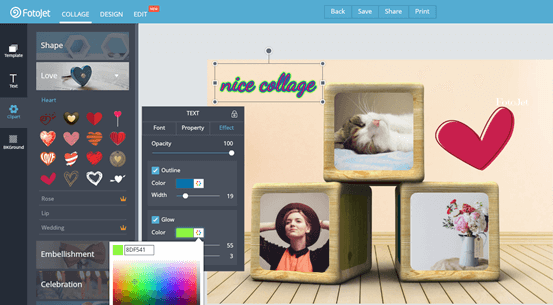 As long as you select a template, a work area will be loads for you to make some additional editions. You can look through all these options and click different templates to have a preview, and then you can get started with the templates you like most to make your collage or design some works. You can add different elements to use, such as text, clip art and background. And you can make some adjustments to them. For text, you can adjust its size, position, color, opacity and so on; what's more, you can add outline and glow to it, also you can change their color. As for clip art, in design mode, you can both use the sample ones, or you are allowed to search plenty of clip art from Internet. There are two ways for you to change the background of templates, you can just click those sample background provide by FotoJet, or upload one from your computer to use, this is a very customers friendly option.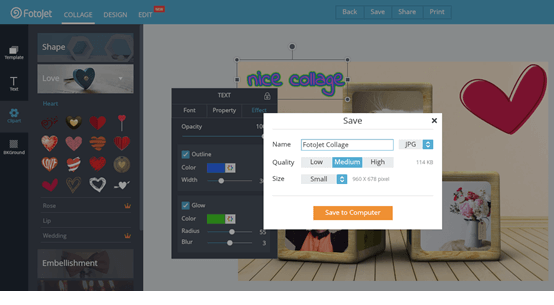 Following Are Some Important Points About Fotojet Tool –
Once you finish your work, you can save it to computer by click the Save button, share it to your social platforms by click the Share button, or print it out directly by click the Print button.
In edit mode, there are many powerful options provide for you to use.
There are many ways for you to edit your photo, such as auto enhance, crop, rotate, color, sharpen, vignette, focus, color splash, selective filter and so on.
These give you the power to edit your photo from all aspects. Once you decide to save the changes, click the Apply button to save your adjustments.
At the same time, you are allowed to use effects to beautify your photos. FotoJet provide a lots of effects for you, just click them to preview, and click apply to save the effects like. You can also adjust its intensity by drag the bar below it.
What's more, you can add text, clip art, overlay and frame to it. The way to add text and clip art you can refer to the previous article.
Then, the way to add overlay and frame is very simple, just click the ones you like, and drag the bars option which you want to make slight adjustments. As long as you finish it, just save it to computer, share it to social platforms or print it out.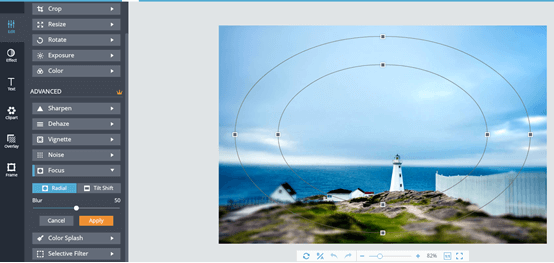 Hope you will like our article about Fotojet Tool for all your graphic needs, So don't forget to like and share our article.