We use plenty short forms or abbreviations while using computer or PC. Even the word "COMPUTER" and "PC" are abbreviations. Full Form of COMPUTER is "Commonly Operating Machine Particularly Used For Technology And Entertainment" while PC stands for "Personal Computer". Therefore no introduction is needed regarding the use of short forms in Computer. Let us come straight to business and discuss some Computer abbreviations. Most of these abbreviations will not only help you in the exam but also help you in your daily life. In this article, we will list some Computer short forms for you. We have categorized most of the abbreviations so that it is easy for you to understand.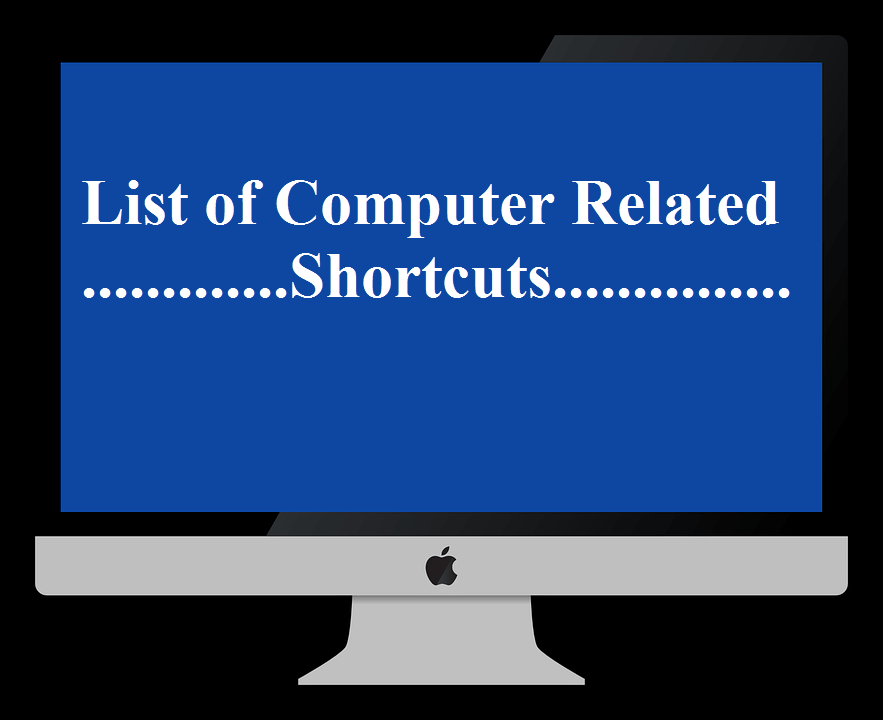 Memory Abbreviations–
B – Byte
Bit – Binary digit
KB – KiloByte
MB – MegaByte
GB – GigaByte
TB – TeraByte
PB – PetaByte
EB – ExaByte
ZB – ZettaByte
YB – YottaByte
Keyboard Abbreviations –
ALT – Alternate
CTRL –Control
DEL – Delete
ESC – Escape
FN – Function
INS – Insert
NUM LOCK – Number Lock
PgDn –Page Down
PgUp – Page Up
Prnt Scrn – Print Screen
ScrLk – Screen Lock
SysRq – System Request
Hardware Abbreviations –
AC – Alternating Current
ACPI – Advanced Configuration and Power Interface
AGP – Accelerated Graphics Port
AMD – Advanced Micro Devices
AMR – Audio Modem Riser
APM – Advanced Power Management
ASR – Automated System Recovery
AT – Advanced Technology
ATA – Advanced Technology Attachment
ATAPI – Advanced Technology Attachment Packet Interface
BIOS – Basic Input Output System
BRD-BD – BLU-RAY Disc
CD – Compact Disc
CMOS – Complementary Metal-Oxide Semiconductor
CPU – Central Processing Unit
CRT – Cathode Ray Tube
DAT – Digital Audio Tape
DRAM – Dynamic Random Access Memory
DVD – Digital Versatile Disc
DVD-R – Digital Video Disc-Recordable
DVD-RW – Digital Video Disc-Rewritable
FAT – File Allocation Table
IC – Integrated Chip
LCD – Liquid Crystal Display
LED – Light Emitting Diode
MDA – Monochrome Display Adapter
MMC – Multi-Media Card
NIC – Network Interface Card
NTFS – New Technology File System
OCR – Optical Character Recognition
OEM – Original Equipment Manufacturer
OMR – Optical Mark Recognition
OS – Operating System
PC – Personal Computer
PDA – Personal Digital Assistant
RAID – Redundant Array of Independent Discs
RAM – Random Access Memory
ROM – Read Only Memory
SATA – Serial Advanced Technology Attachment
SD – Secure Digital
UPS – Uninterrupted Power Supply
USB – Universal Serial Bus
UTP – Unshielded Twisted Pair cable
VDT – Visual Display Terminal
VDU – Visual Display Unit
VGA – Video Graphics Array
VLSI – Very Large Scale Integration
Domain Abbreviations –
TLD – Top Level Domains
.biz – Business
.com – Commercial
.edu – Education
.gov – Governmental
.in – India
.info – Information
.net – Network
.org – Organization
.uk – United Kingdom
.us – United Sates
Internet Abbreviations –
AM – Amplitude Modulation
AP – Access Point
APIPA – Automatic Private Internet Protocol Addressing
ARP – Address Resolution Protocol
ARPANET – Advanced Research Project Agency
ASP – ACTIVE SERVER PAGES
CDMA – Code Davison Multiple Access
CSS – Cascading Style Sheet
DMCA – Digital Millennium Copyright Act
DNS – Domain Name System
EDGE – Enhanced Data Rate for GSM 
e-mail – Electronic Mail
FM – Frequency Modulation
GPRS – General Packet Radio Service
GSM – Global System for Mobile Communication
HSDPA – High Speed Downlink Packet Access
HTML – HYPERTEXT MARKUP LANGUAGE
HTTP – HYPERTEXT TRANSFER PROTOCOL
HTTPS – HYPERTEXT TRANSFER PROTOCOL SECURE
INFO – INFORMATION
IP – Internet Protocol
IPV4 – INTERNET PROTOCOL VERSION 4
IPV6 – INTERNET PROTOCOL VERSION 6
ISP – Internet Service Provider
LAN – LOCAL AREA NETWORK
MMS – MULTIMEDIA MESSAGING SERVICE
NAT – NETWORK ADDRESS TRANSLATION
PHP – HYPERTEXT PREPROCESSOR
PR – PAGE RANK
RSS – REALLY SIMPLE SYNDICATION
SEO – SEARCH ENGINE OPTIMIZATION
SIM – Subscriber Identity Module
SMS – Short Message Service
SQL – Structured Query Language
TCP – Transmission Control Protocol
UHF – Ultra High Frequency
UL – Upload
UMTS – Universal Mobile Telecommunication System
URL – Uniform Resource Locator
VHF – Very High Frequency.
VIRUS – Vital Information Resource Under Siege
VOIP – Voice Over Internet Protocol
WAP – Wireless Application Protocol
WI-FI – Wireless Fidelity
WLAN – Wireless Local Area Network
WWW – World Wide Web
XML – Extensible Mark-up Language
Extension Abbreviations –
3GP – 3rd Generation Project
3GPP – 3rd Generation Partnership Project
AAC – Advanced Audio Coding
AMR – Adaptive Multi-Rate Codec
AVI – Audio Video Interleave
BMP – Bitmap
DOC –Document
DVX – DivX Video
GIF – Graphic InterchangeableFormat
JAD – Java Application Descriptor
JAR – Java Archive
JPEG – Joint Photographic Expert Group
M3G – Mobile 3D Graphics
M4A – MPEG-4 Audio File
MP3 – Moving Picture Experts Group Phase 3 (MPEG-3)
MP4 – MPEG-4 video file
MPEG – Moving Picture Experts Group
MPEG 1 – Moving Picture Experts Group PHASE 1
MPEG 2 – Moving Picture Experts Group PHASE 2
MPEG 3 – Moving Picture Experts Group PHASE 3
PDF – Portable Document Format
PNG – Portable Network Graphics
RTS – Real Time Streaming
SIS – Symbian OS Installer File
SWF – Shock Wave Flash
TXT – Text
WAV – Waveform Audio
WBMP – Wireless Bitmap Image
WMA – Windows Media Audio
WMP – Windows Media Player
WMV – Windows Media Video
Conclusion –
To be honest, there are thousands of such Computer abbreviations and it is not realistic to list out all of them in a single article. You can get various pdf files on the internet which lists some computer abbreviations but none of them lists full. It is a near impossible task. However, we have listed the most used short forms for you and even categorized them. Further, alphabetic order has been followed in every category so you won't have trouble locating a short form. Use this article as a Computer Abbreviation Dictionary!