Introduction To iSeePassword Windows Password Recovery :-
Gone are the days when you have to format the hard disk of your laptop and reinstall its operating system just because you forgot the login password. Now there are efficient software solutions that you can use to unlock your computer without corrupting files or completely deleting your computer data. These tools are commonly called password reset utilities.
While there are a lot of password recovery tools to choose from, this makes it harder for the average person to pick the right one to use. Spending money for a crappy password reset program could even make the situation worse, considering that you are already in a hurry to regain access to your computer. Therefore, it is very important to know what you are dealing with – considering all the options available, before buying a certain password reset program.
So, we are going take a look at one of the most famous password reset programs today. It's called iSeePassword Windows Password Recovery.
How Does It Work?
Using iSeePassword software is a no brainer. Everyone can use it even without intensive knowledge of the technical details about the whole resetting process or even computer expertise. In fact, you should only follow three easy steps before you can finally unlock your computer with the tool.
There are two options to create a password reset disk. These could be either copied to a USB flash drive or a CD/DVD. You just have to download the iSeePassword Windows Password Recovery program on either of those options. Be warned, however, that there is the possibility of the files in your USB Flash drive or CD/DVD being corrupted or deleted in the burning process. You might want to make a backup of your files or just use a blank storage device so you don't risk losing any of the existing data on it.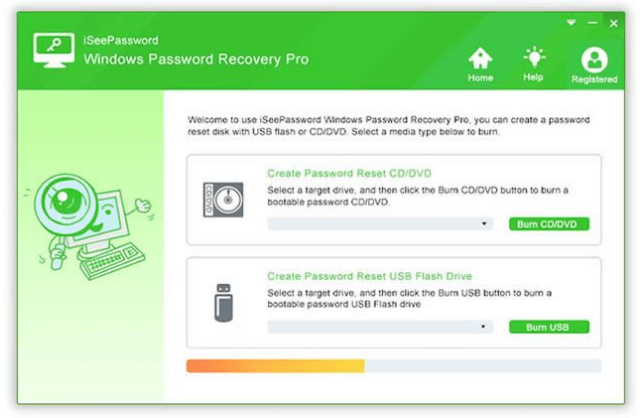 In the next step, there is no need to setup or type anything. The file or software will automatically detect your USB flash drive or CD/DVD. All you have to do is to select what storage device you have inserted in the computer. You also have to select the Windows version that you want unlock. You must select either "Burn USB" or "Burn CD/DVD" to proceed. Wait until the burning process is completed.
After that comes the real password resetting process. Use your USB flash drive or CD/DVD, then you just have to reboot your locked Windows laptop from the pre-created reset disk that you have burned from the iSeePassword Windows Password Recovery program. You'll see all the admin or user passwords set on the laptop. Reset the password, reboot the computer, and the resetting process is done. You now have access to your laptop or computer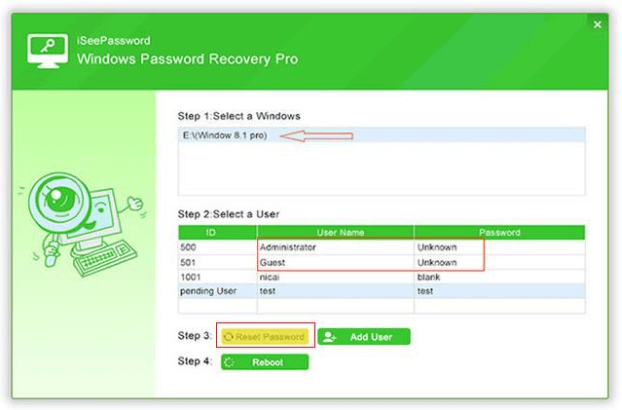 Wide Range Compatibility
The iSeePassword Windows Password Recovery tool has been tested on almost all Windows versions such as Windows 10, Windows 8.1, 8, Windows 7 (32 or 64 bit), Vista (32 or 64 bit), Windows XP, 2000, NT, etc., and Windows Server 2012 (R2)/2008 (R2)/ 2013(R2)/ 2000. It also supports many file systems such as FAT16, FAT32, NTFS, and NTFS5.
Two Editions
Interested buyers can choose from the two editions offered by iSeePassword. The Professional edition costs $29.95, and it has the ability to remove the Windows local admin password and other user passwords and create new user accounts and reset local admin, guest, and other user passwords. It has a free lifetime upgrade an unlimited amount of burning.  
The Advanced edition, on the other hand, can do all of those mentioned capabilities but with one bonus feature: it can create or reset the Windows Domain Administrator/User Password. It costs $49.95, and the software can only be burned five times.
Conclusion :-
Considering the price and features of this product, it is indeed a valuable password reset tool that you can rely on. For ordinary users, it is more advisable to use the Professional edition as it solves normal password problems.
With the iSeePassword Windows Password Recovery program, you won't have to be stressed over lost passwords anymore. Resolving your password concerns will be done in just a matter of minutes, just like entering the house using the back door if you've locked yourself out.